When PBS correspondent and substitute anchor Amna Nawaz found out she would be one of the moderators of a nationally televised presidential debate, she was brought to tears. "When they told me that I was getting to be one of the moderators, I did cry, because I knew that I would be the first Muslim, I knew I'd be the first Asian American, and I just never imagined I would hold those kind of roles."
Twenty years ago, Amna Nawaz didn't have her sights set on hosting a presidential debate on national TV.  She was then 21 years old, newly graduated from the University of Pennsylvania, and working as a journalism fellow for ABC News Nightline in Washington DC. On the job for just a few weeks, Nawaz was given the kind of responsibilities typical for these training positions: running scripts and fetching coffee. The fellowship was supposed to be a year-long break from the classroom before going to law school.
But on September 11, 2001, when planes crashed into the World Trade Center towers in New York, she was assigned to sit in front of a bay of TV monitors, taking notes on the images coming in on the feed. "I remember watching these horrific scenes that are now forever ingrained in my mind about people jumping from buildings and people running in the streets, and the moment that the towers sort of melted into the ground," Nawaz recalls. "I've been talking about it a lot lately, it is still so traumatic to think back to that day."
Life would never be the same for Nawaz, who is Muslim American and the daughter of immigrants from Pakistan. "Everything changed on that day," she recalls. "It just clicked that this was a form of public service. This was someplace I could tell stories and use my natural curiosity and my desire to travel and to be close to things."
But what would that look like? "There weren't a lot of Muslims in the news business then—there still aren't. And I saw how important it was for someone like me to be in the room, and to be part of the conversation and to have my voice be heard so that the stories could be better and more accurately told."
However, there was one Muslim journalist who influenced her tremendously: her father, a former broadcaster on Pakistani Television (PTV), who began anchoring the English news at the age of 18. In the 1970s, the elder Nawaz came to the United States for graduate school at Columbia University. "It's really because of journalism that he first came to the states and that I am American." There was never any pressure to follow in her father's footsteps, Nawaz maintains. In fact, the elder Nawaz ultimately chose a different path in civil service, stationed in Washington D.C., where he could come home at four or five each afternoon and join his wife to watch their daughter Amna play field hockey, lacrosse, and basketball in the suburbs of Alexandria, Virginia.
Even with these origin stories, Nawaz's calling in journalism still wasn't clear cut. At the end of her ABC News fellowship, she was offered a scholarship for graduate school at the London School of Economics. Then, the events of the world spoke to her again. "While I was there, the Iraq War started," says Nawaz. "And suddenly, I felt that urge to be back in the middle of it again. And I thought, well, this is probably what I have to do." She finished her master's degree in one year and returned to New York, where she worked as an NBC producer for the next eight or nine years. While embedded with the Marine Expeditionary Unit in Haiti after the 2010 earthquake, she got her first opportunities to report on-camera, the first taste of her dream job as a foreign correspondent.
As Nawaz talks about her professional trajectory, her stories are interwoven with her family narrative. During her time in Haiti, she and her then-fiancée, also a journalist, were both deployed to different parts of the island nation during their final stretch of wedding planning. "I missed my last dress fitting. We missed the menu tasting. I had to call my parents on a satellite phone and ask them if they could go to do the menu tasting and figure it out," says Nawaz. "It sort of perfectly brought into alignment the way our lives would unfold in our marriage."
Not long after the wedding, Nawaz was sent overseas. Her frequent childhood trips to Pakistan and fluency in Urdu eventually made her the bureau chief and correspondent in the nation's capital, Islamabad. It was a welcome alternative to living in an America in the throes of post-9/11 Islamophobia. But even as a high-level journalist in her family's motherland, Nawaz faced the dilemma familiar to so many Asian Americans: "I'm never really seen as full Pakistani, because I speak Urdu with a bit of an accent. And people will say they can tell just by the way that I walk or carry myself that I'm not local."
Even though Nawaz credits other women of color in the news industry as her mentors, she admits there hasn't been any one person she models her career after. "There hasn't been a lane for someone like me, certainly in this industry, kind of not really in this country," reflects Nawaz. "And you just kind of have to carve it out for yourself and take up spaces."
When Nawaz talks about her career, she often acknowledges her identity as a Muslim, Pakistani American woman, but also as a mother. Three months pregnant, she had followed the Pakistan military to remote mountains near the border of Afghanistan to report on Al Qaeda and the Taliban. "The flak jacket was starting to fit a little differently. And it felt a little irresponsible to start to ask security guards to be worrying about my unborn child as well." She moved back to New York, continuing to cover foreign affairs for NBC and MSNBC, when she noticed that the network had verticals dedicated to covering African American and Latino stories, but nothing for Asian Americans.
In 2014, the network gave her the green light to start an online news site for AAPIs, but there was so much to figure out. "With kind of a cobbled together budget and very little direction—but a lot of help and support from my colleagues at NBC BLK and Latino—we launched NBC Asian America." As managing editor, Nawaz didn't tell the stories herself, so much as she empowered others in the community to do so. "It was driven by people who were deeply connected to their parts of the community who already knew the stories inside and out and just needed a platform to put them on."
One of those writers was journalist and South Asian Journalists Association (SAJA) board member Jennifer Chowdhury, who first met Nawaz at a SAJA event. At the time, Chowdhury was making a transition from writing about fashion and beauty to news. "Amna saw my potential and helped guide me during the early days of my reporting career," says Chowdhury, who considers Nawaz a role model, especially for Asian American women journalists. Before her first international assignment, Chowdhury reached out to Nawaz for insight about reporting in South Asia and staying safe as a woman journalist. "She always provides amazing feedback and insight and somehow always has time to offer advice! With such a robust career and family life, I truly do not know how she achieves so much and still has the energy and heart to give back to the industry to the extent that she does."
NBC Asian America has been going strong for seven years now. Never one to get too comfortable, Nawaz moved to ABC in 2015, anchoring the network's 24-hour live-streaming channel, where in the wee hours of election night November 8, 2016, she announced that Donald Trump would be the 45th president of the United States. It foreshadowed the roles she would take on, leading up to the 2020 presidential election.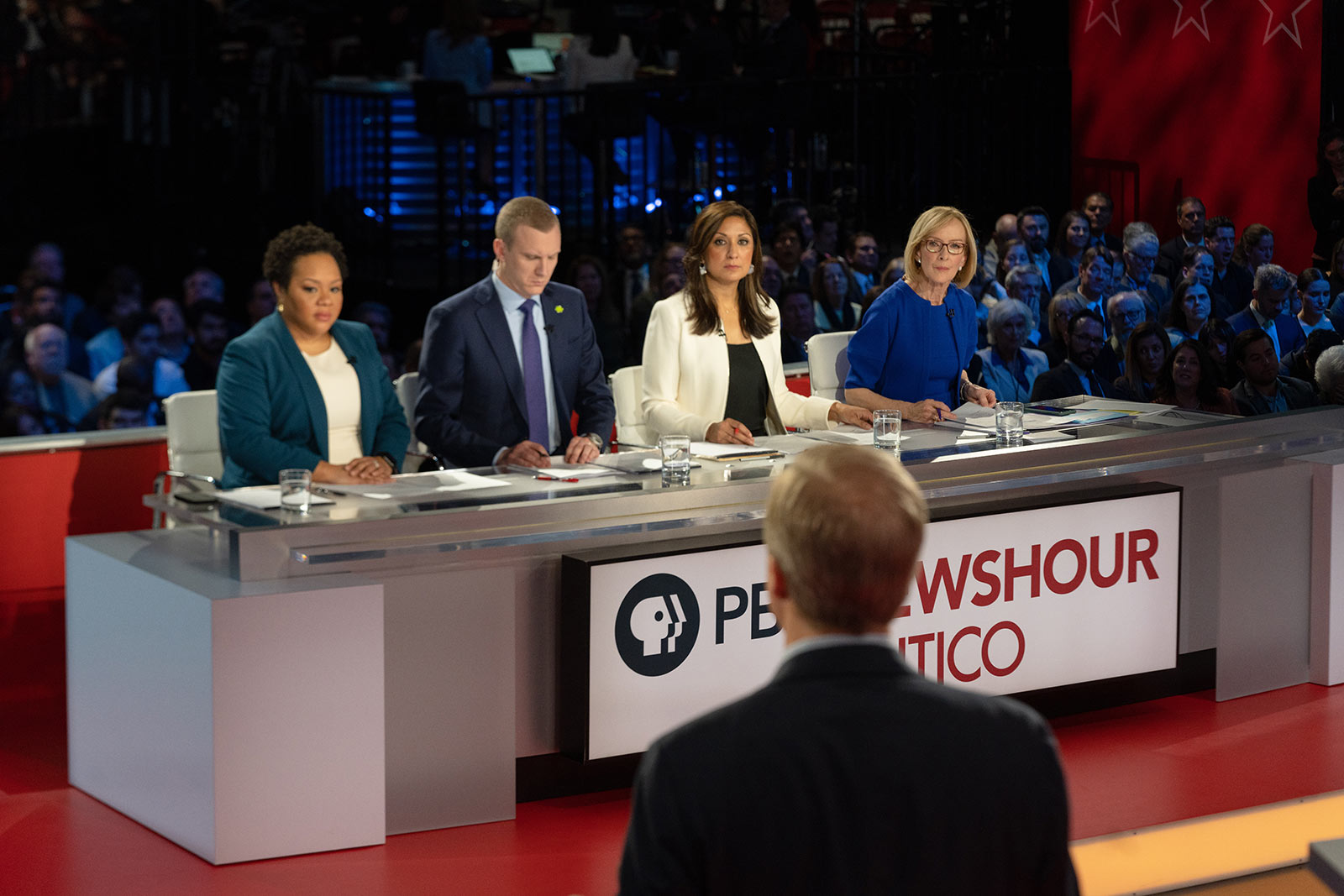 By 2019, Nawaz had a new role: national correspondent for PBS Newshour and the primary fill-in for veteran anchor Judy Woodruff. In December 2019, as the nation geared up for another contentious presidential election, Nawaz was tapped to be one of four moderators of a debate between the Democratic nominees. Not only was she the first Asian American and Muslim moderator, the panelists included the Asian American candidate Andrew Yang. In preparing for the debate, Nawaz thought about how she could bring her own lived perspective—and those of people around her—to the table.
"What does it say to you about this system and our halls of power that you began with the most diverse candidate field? And there's only one candidate of color left?" Nawaz posed that question first to Yang, and then also asked it to Sen. Bernie Sanders. "And he began to talk about climate change. And I had to interrupt him to bring him back to the question that I asked. And then I had to go off Twitter because people came after me."
In spring 2020, in the early months of the coronavirus pandemic and hate crimes against Asian Americans on the rise, CAAM connected with Nawaz through Jeff Bieber, executive for WETA, co-producer of Asian Americans and also the production home of PBS Newshour. "We asked Amna if she would host our digital town hall on COVID-19 in association with our series launch last April," says Donald Young, CAAM Director of Programs. "After that, we have had the incredible privilege to work with Amna on APIAVote's Presidential Town Hall, and most recently, our Celebration of Asian Americans and Native Hawaii/Pacific Islanders this past May. That trilogy of national digital programs have become foundational innovative programming in CAAM's history, during a certain historic coming of age for the Asian American community. I'm certain I'll always look back at these collaborations with Amna as some of the most important work CAAM and I could be associated with."
There's no slowing down for Nawaz, who in 2021 reported on the fall of Afghanistan (always pronouncing it the local way, with the "ah" sound) and the 20th anniversary of 9/11. This fall, she also added new roles as an analyst for NBC and as a fellow for the Georgetown Institute of Politics and Public Service, speaking to undergraduates with an interest in civics. "I want to talk about which stories get told and which don't, and why that is the case. And I want to talk about what it's like to be one of the 'onlies' at all of these institutions."
Once again, she weaves the thread of family into this narrative, volunteering that she gets many questions from female students about balancing career and children. And she wants to be transparent about her own story. "I also wish there'd been the kind of candor that I try to impart to them now. Just to say, there's no having it all," she emphasizes, noting that she's missed first days of school and watched kindergarten graduation over FaceTime. Her husband, journalist Paul Werdel, left his job at the New York Times to become a full-time parent when Nawaz took the job at PBS. And that may be the story she wants to portray to her most impressionable viewers, her two daughters. "What you're giving them at the same time is an example. Not necessarily the best example—but this is an example of what it can look like, of the kind of things you can do." And at this point in history, where the nation seems to be moving forward and backward at the same time, the power to tell one's stories may be more crucial than ever.
CAAM's Storytellers series profiles the creatives who are shaping the Asian American narratives of the future. Read all of the articles to learn more about other makers in this series.