Storytellers Session: Karthick Ramakrishnan
Thursday, July 22, 2021
6:00-7:00 P.M. PT
Tickets:
Free: Current CAAM members
$10: Non-members
The Center for Asian American Media (CAAM) invites you to our next program, Storytellers Session: Karthick Ramakrishnan, on Thursday, July 22, 2021. This special program is the second in our new series, Storytellers Sessions. We are honored to present this conversation between political scientist and author Karthick Ramakrishnan and CAAM Executive Director Stephen Gong.
Karthick is one of the pioneering storytellers and cultural leaders CAAM is honoring this year as part of our Storytellers 2021 series. Storytellers 2021 spotlights visionary Asian Americans who are elevating our narratives and moving the Asian American experience forward.
While Karthick is not a storyteller in the traditional sense, he is doing innovative and important work by revealing the narratives behind data on Asian Americans and Pacific Islanders (AAPIs). As the fastest growing community in the US which is expected to grow to 46 million people by 2046, it is critically important to examine and understand the nuances and complexities of the AAPI community. As the founding director of AAPI Data, Karthick and his colleagues provide disaggregated and accurate demographic data and policy research to shed a light on this diverse community within the larger context of the American experience and to help ensure that their needs and voices are understood and represented.
His current projects intersect academia, philanthropy, public policy, regional development, and racial equity.  Learn more at his website.

Although he is well known for this work, lesser known is his personal journey and the path he took to get to where he is today. This is your opportunity to learn more about Karthick and how his work connecting data, narrative, and action can help rebuild the American dream so that it is more diverse, equitable, and inclusive.
Read his Storytellers 2021 profile here, and join us on July 22 to learn more from Karthick himself.
His new book, Citizenship Reimagined (Cambridge, 2020), develops a precise framework for understanding and measuring citizenship as expansive and multi-dimensional. Everyone who registers for this program will be entered in a giveaway to receive a signed copy of Citizenship Reimagined.
Current CAAM members receive free admission to this program. Tickets are $10 for non-members. Join or renew as a CAAM member today to receive free admission to this program.
You can help sustain CAAM's legacy and future of bringing Asian American stories to light by making a charitable donation here.
Visit our FAQs, how-tos, accessibility, and code of conduct page for tips on how to successfully watch the program once you have registered.
If you have any questions about this program, please email events@caamedia.org.
Co-Presenters:
This program is co-presented by AAPIs for Civic Empowerment Education Fund, API Council, and APIAVote.
Karthick Ramakrishnan, Political Scientist and Author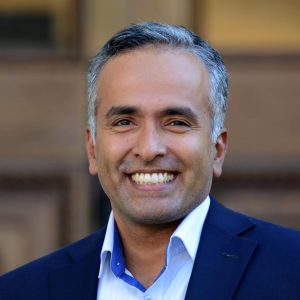 Karthick Ramakrishnan is professor of public policy and political science at the University of California, Riverside, and founding director of its Center for Social Innovation. He has published many articles and 7 books, including most recently, Citizenship Reimagined (Cambridge, 2020) and Framing Immigrants (Russell Sage, 2016). He has written dozens of op-eds and has appeared in nearly 3,000 news stories. Ramakrishnan was named to the Frederick Douglass 200 and is currently working on projects related to racial equity in philanthropy and regional development. He holds a BA in international relations from Brown University and a PhD in politics from Princeton. Ramakrishnan serves on the Board of The California Endowment and the Association of Princeton Graduate Alumni, chairs the California Commission on APIA Affairs, and serves on the U.S. Census Bureau's National Advisory Committee (NAC). Ramakrishnan is founding director of AAPIData.com, which publishes demographic data and policy research on Asian Americans and Pacific Islanders. He also founded Census Legacies, which builds on the foundation of census outreach coalitions to build more inclusive and equitable communities. Ramakrishnan just announced New Declaration, an initiative that brings Americans together to build a more perfect union, one that affirms the critical importance of interdependence, diversity, and equity for all.
Connect with Karthick at:
Twitter: @karthickr | Facebook: /karthickpublic  | Website: karthick.com
Learn more about AAPI Data at:
Twitter: @AAPIData | Facebook: /AAPIData | Instagram: @aapidata | Website: aapidata.com