Multiculturalism is the lens by which Heather Haunani Giugni sees the world. The documentary filmmaker is the daughter of Henry Ku'ualoha Giugni, the prominent aide to the late Senator Daniel Inouye, the first Japanese American to serve in Congress, and her upbringing in both Hawaii and Washington D.C. explains the projects she's passionate in: politically-driven Hawaiian and local narratives and cross-cultural exchange.
In Hawaii's film circles, Giugni can be found at the center of a diverse tableau of projects, many laser-focused on preserving local narratives. Her taxing work behind the scenes, notably finagling funds and corralling talent, may not always be the most glamorous, but it is crucial to the art of storytelling—or kick-starting a story on its path to be told, anyway. Her pursuits and community-building skills often take her off-screen; she's a founding member of both Pacific Islanders in Communications (PIC), a national nonprofit dedicated to addressing and diversifying media representation for Pacific peoples, and 'Ulu'ulu, the Henry Ku'ualoha Giugni Moving Image Archive, a state-of-the-art film archive, which preserves the largest Native Hawaiian film collection in the world. She followed in her father's footsteps in the State House of Representative for a short stint.
Her current project, Family Ingredients, is a half-hour Hawaii food series that traces the origin stories of beloved family recipes, from poi and poisson cru to adobo and pho. With acclaimed Oahu chef Ed Kenney, each episode pairs the traveling host with a local personality as they jet-set to places like Vietnam and Puerto Rico to rediscover a dish's flavors and in turn the person's ancestral roots. (Season 2 is funded in part by CAAM).
I met up with Giugni in Honolulu to chat (over a plate of Hawaiian food, of course) about Family Ingredients, what she brings to the table as its executive producer, and how creatives can strive to feed its local communities through storytelling.
— Matthew Dekneef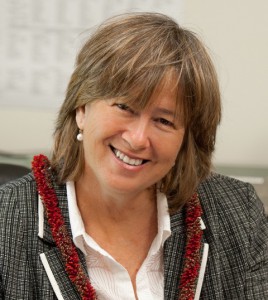 How did the idea for Family Ingredients first come to you? 
I asked a film director friend of mine in Los Angeles, "What's getting funded these days?" and he said, "Mom and baby shows, and food shows." I thought, "Great, well, neither are for me," and left it at that. Then I get on a plane and on the in-flight they're airing Anthony Bourdain: No Reservations. The episode was about the Hudson River community and the lifestyle and the people, and then he ends up at a restaurant. It wasn't until that moment I realized it was even a food show. I thought that is exactly what I can get funded and still do the stories I love to do, which are community stories.
So, that was the a-ha! moment.
That was the a-ha! moment. A relief moment! One of the themes that we always gather around here is food. And, also, because we're multicultural, we bring something to the conversation that is our grandmother's or grandfather's dish—whatever it is—it's that generational, cultural, global connection. Truly, Family Ingredients is a genealogy show because food is genealogy. So, I took that idea and I cobbled it together. But I wouldn't do it if I didn't get certain partners on board, like an airlines, and a host, a specific kind of host.
You're talking about Chef Ed Kenney. What is it about him that made him right for the program? 
I happened to be at one of these local fundraiser dinner functions and Ed was there with two other chefs, standing in the center, wearing a T-shirt and tattoos, and I thought, "That's a chef? That is my host." So I went up to him and we just started talking. I was kind of shocked that he didn't already have a show. He can translate to both age groups, the baby boomers and the youth. He has that crossover appeal we needed for the show.
What do you attribute the success of the show to? Is it timing?
The interest in Family Ingredients are the stories. And the foodie generation, it's a younger generation, which I'm certainly grateful to. In my time, the food industry completely ignored us with all the horrible stuff they'd call "ingredients," of processed foods, potentially dangerous stuff we consumed and continue to. But, now, the foodie generation has gained so much influence in power that these industries have changed because of them, and we are all benefiting from it.
The fact that we're sharing stories on the show about organic farms, sustainability, the issues with plastics—these are all in mainstream conversation now. Everyone is so interested in what they eat, the way they eat, and how it's sourced, which in the end is better for everyone's consciousness. People want to make sure their ingredients are healthy.
The show airs on PBS. What's that partnership like?
I love PBS. I love that they're not a screaming news station. I love that they rigorously fact check you before you get your program on.
Do you consider Family Ingredients to be a political show?
I think by just putting a show out there that's produced by a multicultural team, owned by a multicultural team, controlled by a multicultural team, homegrown and supported, we hope, by its own community, and then able to get that message out globally—I think that's a political statement right there.
Politically, all I want to do is share the story of Hawai'i, and how amazing this multicultural community is. OK, we have our issues, I'm not denying any of that, but overall, I think we're pretty amazing.
How is season two different than season one? Especially now that the show has won a regional Emmy.
Actually, this is a bigger deal. We were nominated for a Daytime Emmy for Outstanding Cinematography. That's huge. There's never been, and I've tried to do research on this, another locally produced, locally grown production to ever receive a nomination for Daytime. That's major, to go up against Oprah and Ellen! But, anyway, the production quality is even better this next season.
Explain your role as an executive producer for a viewer who might not understand what it is you do.
I'm a dreamer. Then, I look for funding, which is the money part, something I love-hate. Finding money is not easy. I should love the money part, but I hate it. I hate when people start running when they see me coming. (Laughs) And I have to tell them, "Hey, I'm not going to ask you for money…yet!" I manage artists and creative personalities aren't always easy, but they're fun to be around.
Whether it's a TV program like Family Ingredients or the first Native Hawaiian film archive on Oahu, it always seems like you're at the front line of many big ideas. It's impressive.
Anyone can do anything, you just have to run with it! I'm just a spoke in the wheel. Look, I'll tell you what I'm good at. I'm good at connecting the dots. The ticket to success is partnership. Everybody is the hero because it really does take a village. Everything does, whether it's Family Ingredients, the archives, anything.
And all your projects are so diverse. What's the commonality that runs through all of them?
Hawai'i, Hawai'i, Hawai'i. All things Hawai'i. I think of my projects as, not just an opportunity to do something creative, selfishly, but also as an opportunity to expand the workforce opportunities. My mission is always to be in conversation with people who see how important it is to support storytellers. My goal has been to be a support, as well as be an example, of a series that can be born and generated here in Hawai'i. Nobody has to go to anywhere else. You don't have to Hollywood anymore because there is no "Hollywood." Because of technology, storytelling has been completely democratized. The future is not brick-and-mortar. Everybody is creating all over the planet, from directors to actors, by people who choose where they want to be.
+ + +
Season 2 of Family Ingredients premieres October 12 on PBS stations (check local listings).
Matthew Dekneef is the managing editor of Flux magazine. He's based in Honolulu, Hawaii.
This interview has been edited for length and clarity.
INGREDIENTS
For the Stock seasoning:
INSTRUCTIONS
Pre-boil pork: cover pork bones and pork ribs with water; bring to a rolling boil, drain and rinse. Add the water to the pork bones and pork ribs, bring to a boil. Cover and simmer 30 minutes. Skim off impurities, cover and simmer 30 more minutes.

In a skillet, combine sugar, stock, shoyu awamori and mirin, bring to a boil. Add pork ribs, turning occasionally until well glazed. Set aside. Remove bones from stock. Add bonito flakes and boil for 2 minutes. Strains stock, discard flakes.

Add salt and shoyu, simmer for 2 minutes.

Cut kamaboko into 8 thins slices.

Cut green onions into ¼-lengths.

Pour boiling water over soba and drain. Put soba into bowls, add stock. Garnish with pork ribs Kamaboko and onions.
RECIPE NOTES
You may find Sun Noodle Brand – Okinawa Soba at your local supermarket or go to: www.sunnoodle.com for more information.
Recipe from Chimugukuru – the soul, the spirit, the heart – Okinawa Mixed Plate II by Hui O Laulima (recipe has been altered for pork bone-in ribs vs. pork belly).
Recipe crossposted from Family Ingredients.