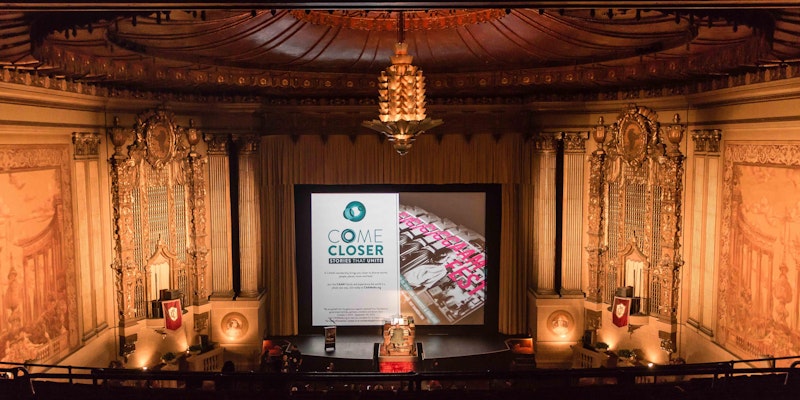 The Center for Asian American Media (CAAM) invites you and a guest to our annual invitation-only CAAMFest Sneak Preview on Tuesday, March 27, 2018 in the beautiful theater of Airbnb's San Francisco Headquarters building. We are thrilled to welcome Airbnb as a new CAAMFest partner and host of this exclusive program.
Don't miss out! If you aren't already a CAAM Sustaining Member or your membership has expired, join or renew today to receive insider access at CAAMFest 2018, including an invitation to this program, access to our members-only ticket buying period before the general public, discounted tickets and other perks during CAAMFest and throughout the year.
Space is limited and an RSVP is required. Tickets are not transferable. Please RSVP by Friday, March 23, 2018 at 12 pm over on our Eventbrite page.
Be amongst the first to learn about the expanded programming and experiences awaiting you during the 36th Anniversary CAAMFest, which is set for May 10-24 this year.The program will feature a screening of 2-3 short films selected for CAAMFest 2018, a viewing of exclusive work-in-progress clips from one of the CAAMFest 2018 Special Presentations, and a moderated conversation between CAAM's Festival and Exhibitions Director Masashi Niwano and some of our selected filmmakers. You will also have the opportunity to meet fellow members of the CAAM family and members of CAAM's Board of Directors and staff. We will also share with you highlights of the CAAM-funded and CAAM-supported documentaries set to premiere on national public television this May, as well as updates on other major CAAM initiatives and programs.
The screening will be preceded by a reception featuring a delicious assortment of light appetizers and drinks.
For more information or questions, please contact events@caamedia.org or Jennifer Chu, Membership Manager at jchu@caamedia.org or (415) 863 – 0814 extension 102. We look forward to seeing you!
Presented by: